Shopping Cart
Your Cart is Empty
There was an error with PayPal
Click here to try again
Thank you for your business!
You should be receiving an order confirmation from Paypal shortly.
Exit Shopping Cart
Renovating a boat can feel overwhelming at times.  Yesterday was one of those days.  People love to come and snap photos of the boat because she is inspiring. In many ways..she's even more inspiring to see out of the water.  She looks larger out of the water than in the water.  After yesterday's Chinese Fishing Village Walk of Remembrance where we all made new friends...China Dragon had some new visitors.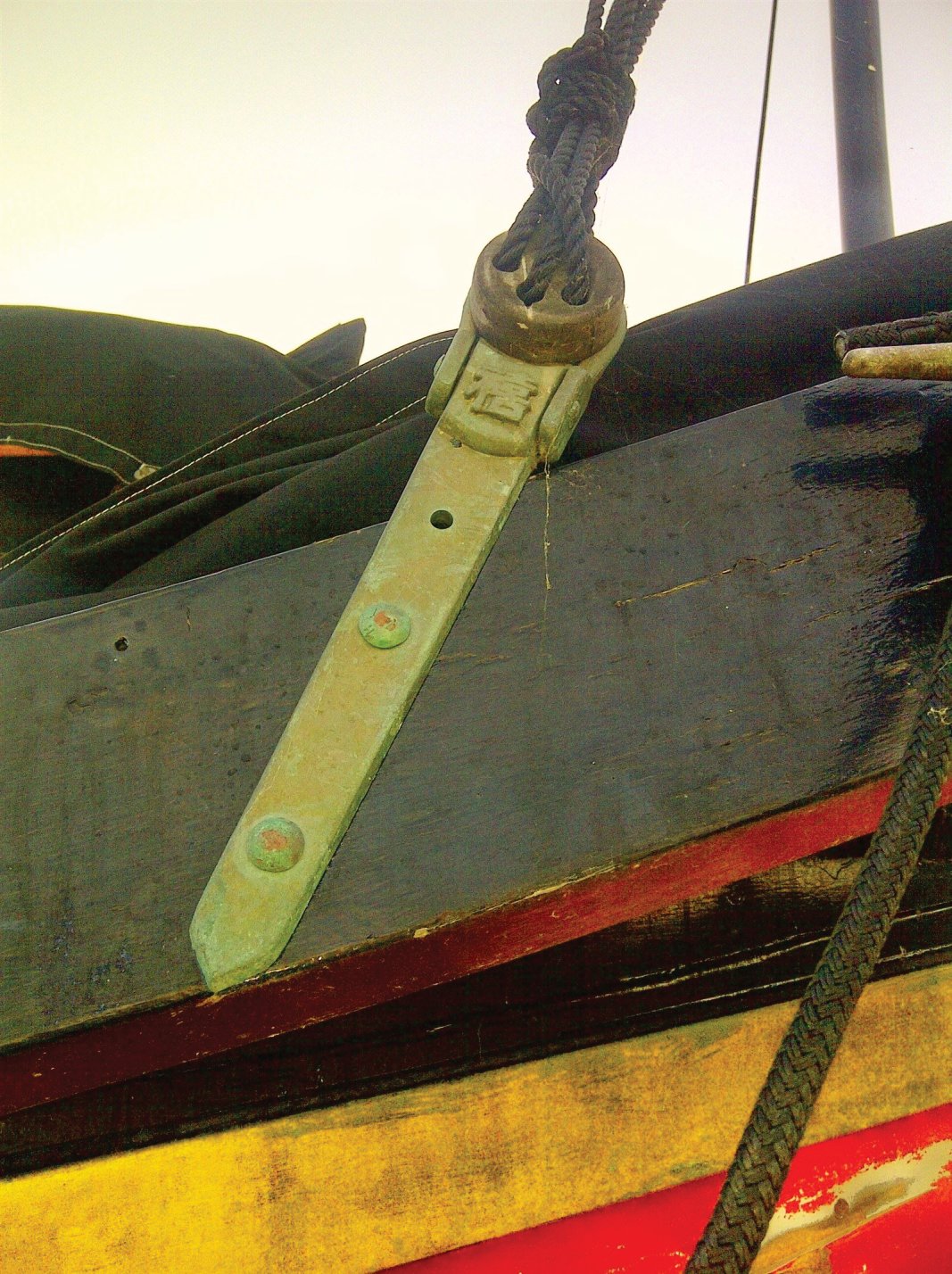 Nancy from San Francisco looked up at the eyes that hold the sails rigging and said: That symbol means: Good Fortune.    Check out the symbol of in this photo on the bronze metal fitting.  I love finding out more information.  Nancy, even said that she was going to call me an honorary Chinese woman.  I loved that.  Nancy's family is from the GuangDong Province where the museum is that houses a large treasure junk that sunk 800 years ago.  
Every day China Dragon makes new friends and I get to see her in the reflection of her admirers.   Come join us and help renovate her.  We need to sand and oil her teak, remove paint from the bilges...as paint in the bilges flakes off and clogs up bilge pumps and that's not a good thing.  It's fun to work on the boat by the water.  You never know who you will meet.  Sanding is something almost anyone can do and it's not hard work at all.   I promise.

Note: We're nearly ready to have her sail in the Pacific Grove's Feast of Lanterns and are looking for experienced crew to help her get ready and be a part of it.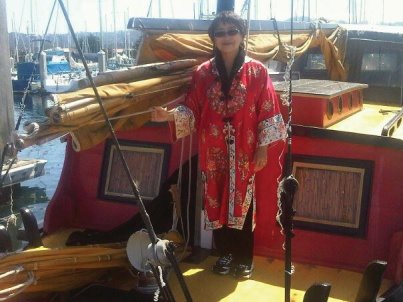 The Pacific Grove Chinese Fishing Village burned to the ground on May 16, 1906.  Join Gerry Low-Sabado, a direct descendant of this fishing village, and Pacific Grove Mayor Carmelita Garcia to honor and pay respects 106 years later.  Meet at the Pacific Grove Museum of Natural History on Saturday, May 19th.   11:00 a.m.  
Pacific Grove Museum of Natural History Executive Director Lori Mannel - Welcome
Mayor Carmelita Garcia - Welcome and Presentation of Annual Proclamation
Gerry Low-Sabado - Screening of Cal State University at Monterey Bay's Teledramatic Arts and Technology Department produced documentary "By Light of Lanterns: An Untold History of Monterey's Chinese Fishermen."   
Riley Gaucher & Chloe Estes - 2006 International School of Monterey 3rd grade co-authors will speak about their research and fictional story "Chinatown" on display in the museum.
Marisa Mercado to speak about her research and the making of the "Chinese Fishing Village" interpretive panels on display in the museum.
Michael Croft will speak about his research and building of "The Pacific Grove Chinese Fishing Village" model also on display in the museum.
 12:30 p.m  
Lunch Break - Visit one of Pacific Grove's fine restaurants or bring your own lunch.You can also visit with friends and descendants and tour the museum.
  2:00 p.m.  
Walk of Remembrance of Pacific Grove's Chinese Fishing Village - Meet back at the PGMNH. Leonard Han and the Monterey Bay Lion Dance Team will perform and then lead the 1 mile walk to Lovers Point and along the recreation trail to the site where the Chinese Fishing Village once stood. Wear comfortable walking shoes. View recent historic word change to the Chinese panel on the mural wall along the trail.  Also make time to visit China Dragon (Authentic Chinese Junk Boat) at Breakwater Cove Marina in the boat yard.  She represents the size and type of boat that the original Chinese used to arrive in Pacific Grove in the 1850's.  Susan Bradley is leading the drive to restore this magnificent Chinese Junk Fishing Boat. See http://www.HistoricalChineseJunkBoatMuseum.com


Joe Asling will be videoing and documenting this event.  Guests are welcome to make comments and relate why this Walk of Remembrance is significant to you.
This event is created as a cooperative project of the Pacific Grove Museum of Natural History, the City of Pacific Grove, the Heritage Society of Pacific Grove, the Monterey Bay Lion Dance Team, the National Coalition Building Institute, and the American Civil Liberties Union.  It is the community's shared goal to honor these early Chinese American settlers of Pacific Grove.                                  For more information call (831) 277-1091 or (510) 378-0999
Saturday, May 19, 2012 - 11:00am - 4:00pm
http://www.pgmuseum.org/event/chinese-fishing-village-walk-remembrance-0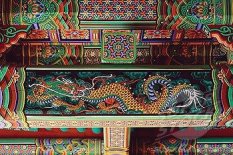 Day 3 of China Dragon's being in dry dock or as they say: On the Hard meaning on a hard surface versus the water.
The Hull is being sanded and readied for new paint. The red is called Perfection Red.  

We plan on adding two new colors to the trim: blue and green as shown in this photo of a Dragon from the ceiling of a Buddhist Monastery.  Photo provided to us by artist Conlon for inspiration.  Tell us what you think?
Over all her hull condition is really good considering her age. She was built in 1958 in Hong Kong and shipped over on a barge. 

Chinese Junk Boat Museum? in Monterey?  How did I get to this point?
What on earth possessed me to save and preserve this unique bit of history.  How did this amazing junk find it's way to me here?  Even my dog Romeo who guards the boat from sea otters and sea lions has his say.  All I know is that there is history in this boat and it deserves to have a new life and new future.   We're hauling her out on Thursday May 10th at 9am and you can be a part of her restoration so that she can SAIL her yellow sails with the Red Dragon on the top during the Pacific Grove Festival of Lanterns this summer. E-mail us your availability and desires to come and work on her May 10th to 20th.
[email protected]
historicalchinesejunkboatmuseum.com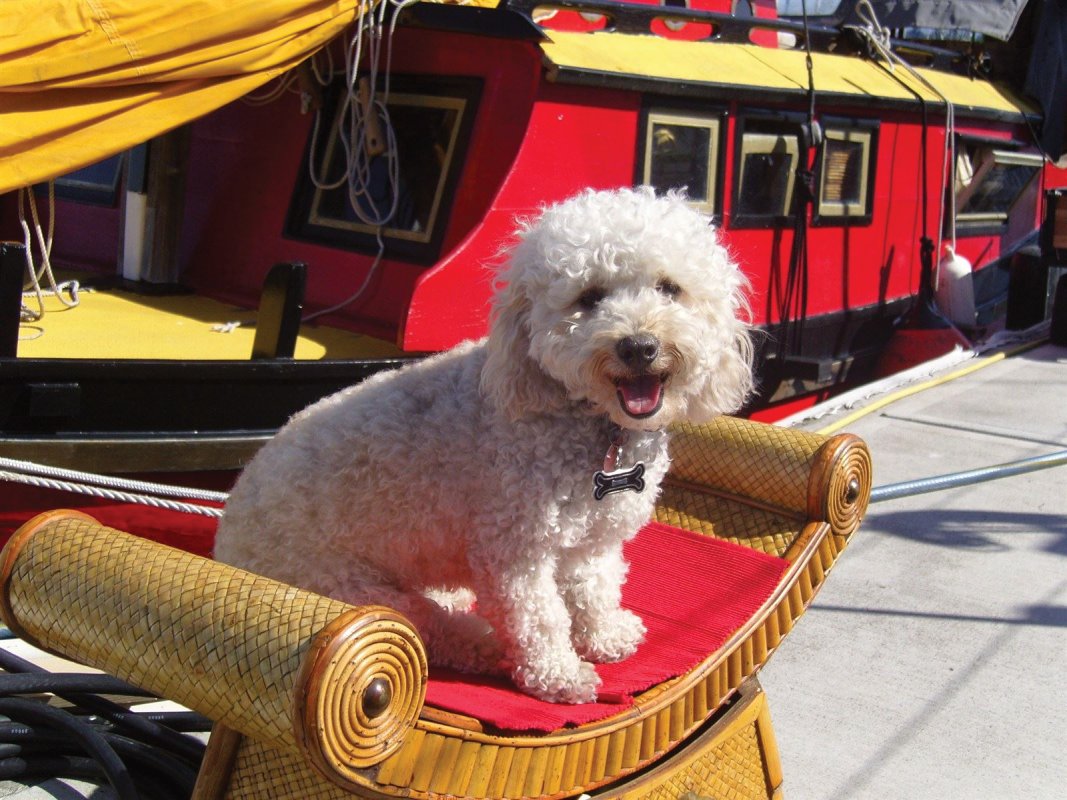 /